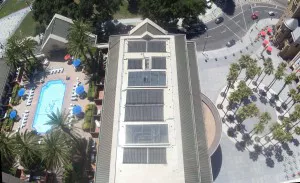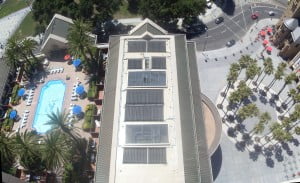 Commercial pool heating has never made more sense than right now! Solaron offers Heliocol heating systems for swimming pools located at apartment complexes, condominiums, motels, hotels, schools, parks, fitness centers, and more. A Helicool heating system for any of the above applications offsets utility costs and is better for the environment, replacing natural gas, electricity or propane fueled heaters. Plus, Heliocol offers one of the best warranties in the industry and is even trusted by Olympic organizers to build solar pool heating systems.
Solar Pool Heating Rebates for Business
The State of California Assembly Bill #2249 (effective July 1, 2013) implements a sizeable rebate program in Northern California for PG&E customers with commercial or multi-family pools. This rebate offsets a large percentage of the cost, paying up to $500,000 for the price of installing a solar heating system.
Solaron handles all phases of commercial and multi-family building projects, including design, engineering and permitting. We handle construction and take care of the rebate process. Solaron wants to make it simple for you to install commercial solar pool heaters in Sacramento and the Bay Area.