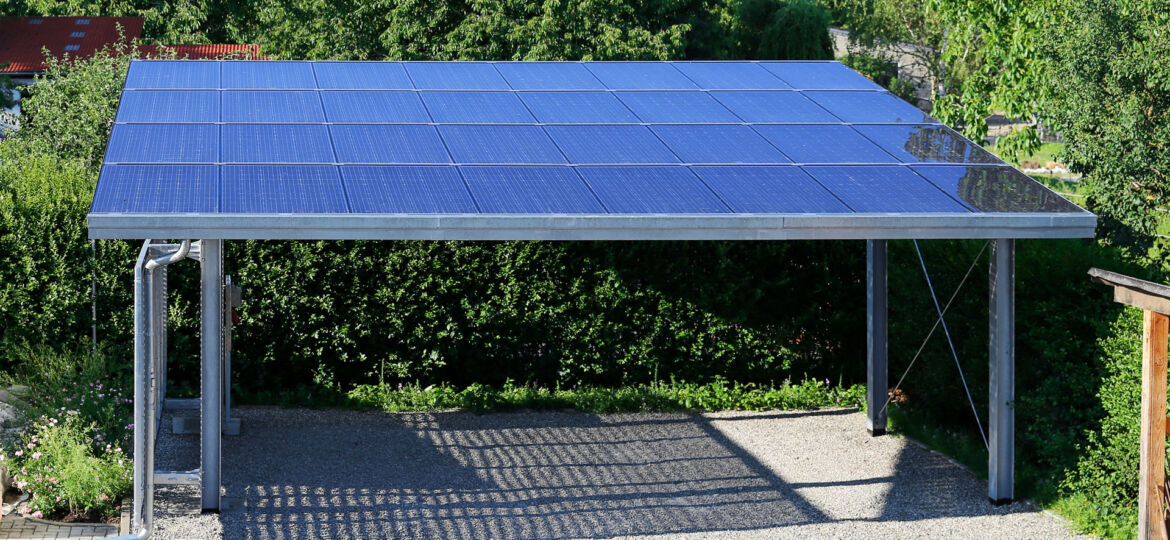 Whether your home is small or large, you can expect to be pleasantly surprised on how much you'd benefit from Sacramento solar electricity. It's also likely that you'll be impressed to see how many panels can fit on your roof. Our planning team at Solaron is very experienced in configuring photovoltaic panels on a wide variety of roof spaces for the benefit of our customers.
Even so, there are some homeowners who would rather not have solar panels on their rooftops. Maybe they already have a Heliocol solar panel system for solar pool heating, or perhaps they simply do not like the look of panels on their roof. For those individuals, Solaron understands your preference, and we can still help. If you have a separate garage or workshop, we can install your panels there. If that doesn't work, we could go with a ground mounted solar array on your property. And if neither of those ideas sound good for your situation, there's another option.
Most people park their cars somewhere on their property. Many people have a modular or fabric shelter covering the parking area for their car, boat or RV. Upgrading this feature to a solar carport offers a tremendous opportunity to benefit your home, your vehicle, and your budget.
The Solar Carport Explained
If you like multi-tools, then you'll appreciate solar carports. A solar carport (also called a solar canopy) is an installation option that efficiently provides multiple functions at the same time. Photovoltaic panels span the roof of the carport, collecting sunlight and converting it into useful electricity. The carport also provides shade and shelter for your vehicle, keeping frost away during cold winters, and reducing damage from heat and sunlight during Sacramento summers.
Most homeowner's insurance policies cover damage to a solar carport. The amount of coverage depends on the structure, so verification on what your insurance covers should be factored into what type of solar carport you acquire. Not only that, but a carport that provides electricity and vehicular protection improves your home, increasing its value.
With some homes, the available rooftop is too shaded, in a difficult position, or at an angle that might reduce the benefit of having Solaron install a solar panel system. For many such homes, a solar carport is a great alternative. Building the carport in the proper position and at the proper angles allows you to collect more sunlight and generate more electricity than any configuration on your home's roof.
Types of Solar Carports
While there are modular designs and DIY kits, many of these come with the risk of being too flimsy or not approved by city or county permits. There is also the question of steel or wood frames, the size and width of the structure, and any customizations based on your preference. Many of these issues should be discussed with your contractor before he begins the build, but Solaron is happy to stay in the loop and make sure your carport is ready for Maxeon solar panels. We can also help you find incentives and federal tax credits to help with a portion of the installation costs. Don't ask us to install solar panels on a carport that was made without a building permit either! Building inspectors will refuse any photovoltaic project where the carport is not certified as capable of holding the weight of the solar panels.
To get more information on the multiple functions of solar carports, give our office a call. Our well-informed agents at Solaron are ready to assist you. If you prefer, schedule a free solar analysis online to find out what solar panel systems are best for your home. Whether mounted to the ground, over your car, or on your roof, a solar panel system installed by Solaron is the best tool to provide electricity for your home.