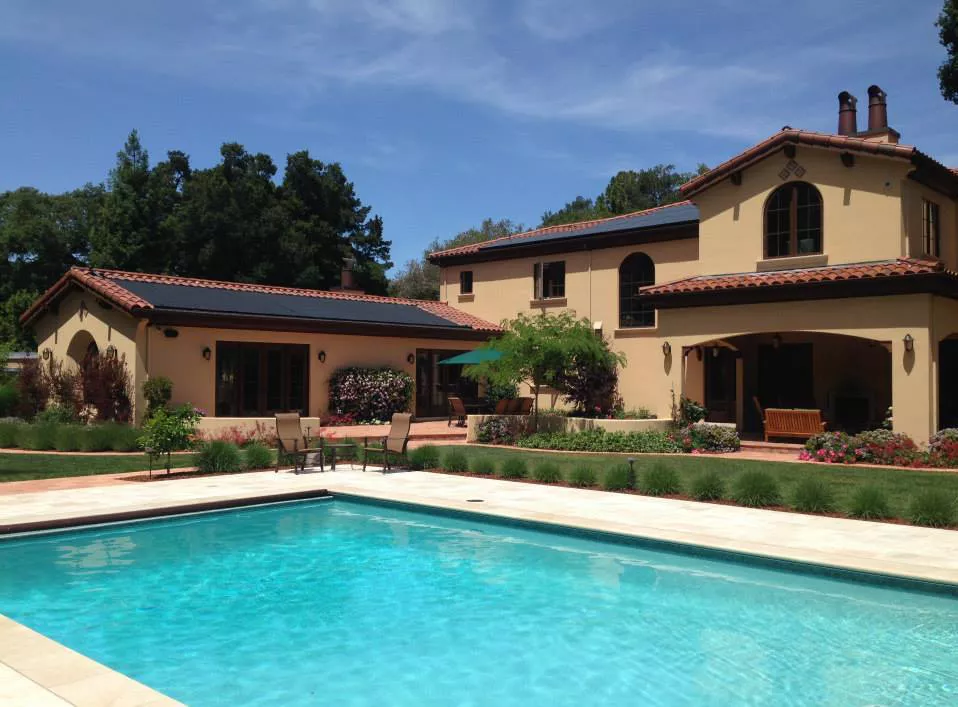 Exercising in warm water makes all the difference! Not only will you enjoy a warmer swimming pool all summer long, but you can also begin playing in your swimming pool sooner in the spring and longer in the fall. Whether you're an early morning swimmer or have family members that like to splash in the swimming pool for hours, solar swimming pool heating is the answer! And Solaron of Woodland provides it!
Solar Pool Heating Costs Less Money
Solar swimming pool heating runs very easily, with no furnaces and electricity is only needed to power the swimming pool pump and any automatic controllers. So operating the system is notably economical. According to the Department of Energy, installation costs about the same as installing other types of swimming pool heating. Afterwards, solar swimming pool heaters tend to work longer than electricity or natural gas heating systems. So in the end, solar swimming pool heating makes the best monetary sense.
Swim Longer with Solar Pool Heating
Every year days begin to get longer and you think about swimming. Yet you look at the swimming pool temperature and it is just too cold for your tastes! A solar swimming pool heater solves this situation. Once the sun is again strong and shining, you can "pump up" the temperature of a swimming pool. And when people are hauling out the swimming pool cover for the fall and winter, you can just keep swimming for some weeks more.
Ask For Full Temperature Automation
Solaron uses Heliocol swimming pool heating systems. We rely on Heliocol to work efficiently and effectively every time, with every installation. Olympic organizers rely on them too, with Heliocol solar swimming pool heaters installed for the Atlanta, Athens and Beijing Olympics. Whether your swimming pool is too cold, or is a little too hot, a solar swimming pool heater increases the temperature with warm daytime operation or cuts temperatures by pumping cooler water at night.
Trust Solaron for Heliocol
Solaron is the #1 Heliocol contractor in California, and we all know that California and the Woodland area have a lot of swimming pools! Every solar swimming pool heater system reduces our collective use of electricity or natural gas, providing tremendous convenience with the minimum environmental cost. For more information about Heliocol swimming pool heating for commercial or residential use, contact Solaron at 916-631-9293.
Free Solar Pool Analysis