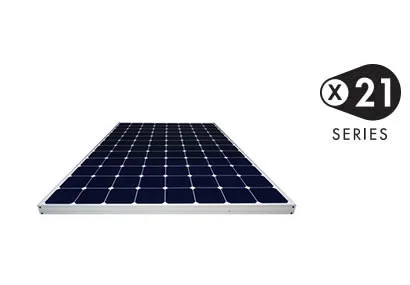 SunPower solar panels are top-of-the-line and provide homeowners with more energy over the same amount of square footage. Here are some of the reasons why the SunPower X21 photovoltaic system is so superior to its competitors:
Uses the highest grade monocrystalline silicon and Maxeon™ cell technology;
Durable solar cells built on a solid copper foundation;
Superior construction prevents corrosion and cracking, common causes of degradation in other panels;
Built with anti-reflective glass to reduce glare and improve light absorption.
These qualities help the X-21 Series by SunPower set the industry record for the most energy produced by production photovoltaic modules. That's why the name is X-21, from the original record-breaking 21.5% efficiency produced by these panels. Continued research and development has pushed this factor even further, and now the X-Series offers homeowners nearly 23% efficiency, clearly the best panel that money can buy!
Advantages of the SunPower X-Series:
Purchase fewer panels! SunPower does more with less, so you need less space for the same amount of energy production.
Make more electricity! SunPower converts more sunlight into electricity than any other panel, so you can also choose to maximize your energy output for the available space.
Peace of mind guarantee! With a 25-year warranty, SunPower is unmatched in reliability and satisfaction.
Save more money! A SunPower system generates 60% more electricity over its 25-year lifespan than other companies' solar panels.
Read more about the X-21 Series HERE!