Commercial Pool Heating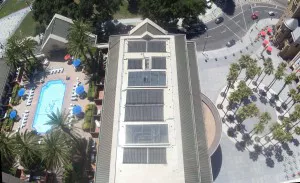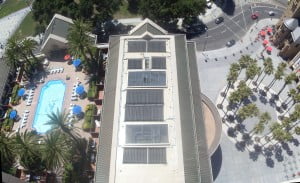 One of the largest costs of having a commercial pool is paying to heat the water. What if you heated that water for free instead? Sunlight is abundant in California and that makes it the best place for solar pool heating installations. And Solaron is the state leader for sales of one of the best manufacturers available – Heliocol water heating solar panels.
The State of California implemented a generous rebate program for business customers with multi-family swimming pools. This rebate saves on a significant percentage of the expense of installing a solar pool heating system. Other rebates are often available from additional sources.
When you order a solar pool heating installation from Solaron of Sacramento, we oversee the entire project from start to completion. First, you receive a free consultation and estimate at your property in Napa. Second, we design, engineer and secure the permits for your project. Finally, we build the pool heater to your satisfaction and make sure that you acquire all applicable rebates. All you do is lean back and save money! To begin the process of installing your solar pool heater, call Solaron today at 916-631-9293.
Free Solar Pool Analysis