Commercial Swimming Pool Heating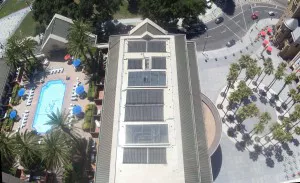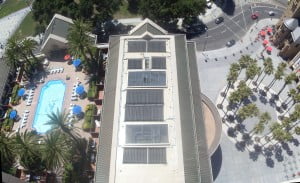 Commercial swimming pool heating has never made more economic sense than at this moment! Solaron offers Heliocol heating systems for pools located at multi-family buildings, condominiums, motels, hotels, fitness centers, and others. A Helicol heating product for any of the above applications defrays utility costs, replacing propane or natural gas.
The State of California designed a considerable rebate program for business customers with multi-family pools. This rebate defrays a considerable part of the price of installing a solar swimming pool heating system. Other rebates are often available from additional agencies.
When you purchase a solar swimming pool heating installation from Solaron of Sacramento, we oversee the entire project from beginning to completion. First, you receive a free consultation and quotation at your property in Auburn. Second, we design, engineer and obtain the permits for your installation. Finally, we build the swimming pool heater to your satisfaction and make certain that you benefit from all applicable rebates. All you do is lean back and save money! To start the process of installing your solar swimming pool heater, call Solaron today at 916-631-9293.
Free Solar Pool Analysis